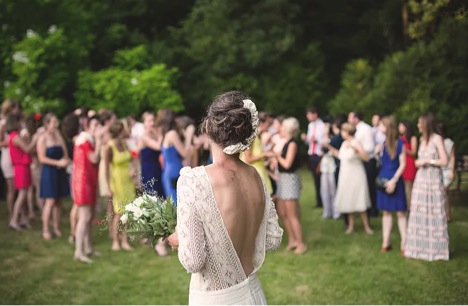 The outdoors may be your dream venue for your big day but there are a few things you need to keep in mind when planning your beach dream or forest gathering. Weather, lighting, food choices and the limits of your attire are all factors that play a big role in your outdoor ceremony and reception. Follow these tips if you want your big day to shine regardless of rain or wind.

Fall in love with your backup plan

As beautiful as the outdoors may be it comes with a big risk; weather. No matter how much planning you do or how many times you check the forecast, nature has its own plan for the day. Regardless of where your wedding is outdoors, you should always have a back up plan and you should fall in love with your Plan B just as much as your original venue. If the weather isn't agreeable you shouldn't feel like you are losing out by having your wedding at your "second choice". Keep the changing weather in mind when having an outdoor wedding by providing guests with helpful weather accessories like umbrellas, fans or light shawls. These small additions can help your attendees feel more comfortable and enjoy the experience.

Keep in mind your rain policies

What happens if speakers are exposed to rain damage and break? Does your venue offer indoor space for free if there is rain or is that an additional fee? What if the wind rips the tarp of your white tent? Always check all your contracts for rain and weather policies. Most event rentals and venues are aware of the problems that come with weather and outdoor exposure and have sections in their contracts for weather related damage or whether or not they offer back up plans. If you are renting an outdoor space from an event facility make sure to get the backup plan. You need to know what will happen if any property rentals are damaged by weather during the run of the day. While personal damage policies are usually obvious, outdoors policies can vary between vendors. For situations like these it may be essential to carry insurance for your day-of.

Get control of the lighting

You should always keep lighting in mind as it creates a certain mood at your events but events in the outdoors with natural shifting lighting, having control is essential. Adding things like paper lanterns not only add a pop of color but provide light to a dim evening, spot lights can add brightness where clouds, trees and natural structures form shadows, and shimmering lights can provide more light while creating an eye catching statement. Remember to light up uneven walkways especially in the evening to keep guests safe. Luminaries and small up-lights along the paths can make a world of difference.

Can you hear me now

Make sure your guests can hear your nuptials. When you imagine your dream day visuals you need to keep in mind the sound that comes with it. Most modern event facilities are created in a manner to help sound flow but the outdoors do not have the built in insulation and architecture to help your voice reach. When you have a location in mind bring a few friends and practice in the location to see if the surroundings fight your vocalization. Bear in mind the waves at a beach wedding, the rustling of trees or the wind in an open field. All these natural forming sounds can hinder your vows. A better location, additional speakers and mics can help when it comes to sound. Your DJ, band or party rental may be able to help you get ahold of better audio for your dream day.

Pay attention to your food

When planning your wedding outdoors, mention this to caterers in the beginning and make sure they have experience and are capable of serving outdoors. Food safety and presentation are key factors to keep and mind. Your caterer should be aware of outdoor safety hazards including temperature control, insects and weather. Due to food born bacteria there are many legal issues that come along with food so in some cases caters may charge additional fees for outdoor services because of the additional warming ovens and cleaning stations needed for food safety. While you may not want additional fees this money does go towards the safety of you and your guests.

Remember your wardrobe limits

Outdoor weddings can be hot depending on the time of year and location, so keeping in mind your wardrobe is essential to enjoying your own big day. Consider having alternative attire for your reception. While you may love your wedding dress, carrying those layers upon layers of fabric well into the evening may not be the best option for your health and enjoyment. While white keeps you cool, something shorter and softer for the last half of your dream day will make it that much better. Also avoid stilettos or kitten heels if a huge part of your day is spent in the sand or grass. It may be better to opt for a pair of wedges or flats to help your feet by preventing you from sinking in to the ground causing some serious walking issues.