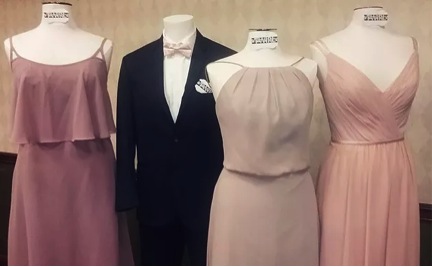 The Fashion Shows this year have featured a variety of Bridesmaid Dresses in blush, Champaign, peaches, ivories, pale blues and purples. You will also see a variety of shades in the Pantone Color of the Year which is 'Ultra Violet'.

Jon Roberts, with American Commodore Tuxedo said, "For the Grooms and Groomsmen we are seeing colored jackets with more fitted black pants. Also burgundy with black and navy are popular. Gray is the new black." Roberts suggests that grooms and groomsmen have a try-on day just like the brides and bridesmaids and not to wait till the day before to try on their attire.

"Bridalwear is all about sheer paneling right now," a representative of David's Bridal said, "a lot of layering textures. For bridesmaids pinks and blues are really in trend along blush and wine." David's Bridal suggests a bride purchase her dress a year before her wedding leaving time for modification. The suggestion for bridesmaids is six to eight months.

Two hours is the suggested amount of time for trying on gowns says Laure Wingfield of Twirl, a full service brides, bridesmaids and grooms attire store located in Kenton, Ohio. "Comfort is key." Winfield said, "Brides are wanting to be comfortable throughout their day since they are going to be in this gown from morning till night." "Bring the most important people with you to a try on." Wingfield advises, "Not everyone. Pick who you trust and love and be prepared to fall in love on your first visit."

Article Content Courtesy of James Novotny, Lifestyle Design (DE-FI)ance Magazine